by Admin on Jul.15, 2013, under Authentic Meatballs, Food & Wine, Healthy Recipes, Making Meatballs, Meatballs, Nutrition News, The Party Girl Diet
California Living™ with Aprilanne Season 8 2013 airs on:
Tuesdays & Thursdays @ 6:30 a.m on KKPX-TV ION Television – Comcast 16 in San Francisco – Oakland – San Jose.
Tuesdays & Thursdays @ 6:30 a.m on KSPX-TV on Sacramento on Comcast Channel 11.
From TV specials on location in California's world famous destinations such as Napa Valley Wine Country and the Paso Robles Wine Region, to California's best day trips, bay trips, and romantic getaways in between, viewers tune in to "Find out why it's just more fun…living in California."
Make the Authentic Italian Meatballs recipe featured in the 
California Living 
segment above and you'll be getting in touch with your inner Italian and making Italian Matballs and Spaghetti "the old fashioned way" tonight…
Author Aprilanne Hurley dishes her Grandma's Italian Meatball and Spaghetti Recipes from her best seller The Party Girl Diet available on Amazon.  This is the best meatball recipe you will ever find.
You can also try making Aprilanne's 
Grandma Rose's MEATBALL Recipe
 which will transform you  into an Authentic Italian chef.  Your family and guests will shower you with meatball compliments, and you will realize you don't have to be Italian to cook like an Authentic Italian.
Now the next thing we will be cooking up is Graziano's Fresh Tomato Sauce for your spaghetti and meatballs in the video below:

There are some things in life you just can't live without -  like Grandma Rose's Authentic Italian Meatballs and Spaghetti Sauce!
Now while I have 2 Meatball Recipes to share with you  - the first is my Grandma Rose's Recipe since it is the Meatball Recipe I grew up on…which has been handed down generation after generation.  The secret ingredient in this recipe is the hot dog roles (yes you read that right.) which are soaked in milk prior to mixing in with the meat to give these meatballs that delectable softness Grandma Rose's Meatballs are famous for.
The 2nd recipe is courtesy of Sonoma County Executive Chef Graziano Perozzi who, graciously showed us how to "make meatballs" on California Living prime time – which can be viewed in the video player above for an easy step by step account of how to…make Meatballs! Graziano's Meatballs, unlike Grandma Rose's, don't call for any bread or breadcrumbs.  Are they still soft and delicious?  Why not make both recipes and you be the judge…and if you are so inclined – drop us a note to let us know your vote on which recipe makes the better Meatball - Enjoy!   Aprilanne
Health Bonus:  Tomatoes provide excellent health benefits – find out more and the recipe for Fresh Tomato Sauce
PS:  You can substitute ground turkey for the ground beef, pork, etc., if you prefer – and no one (including you) will notice any significant difference in the overall consistency and taste.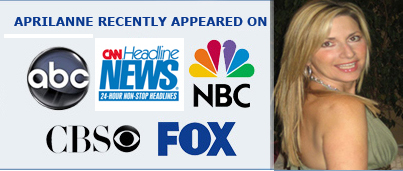 Aprilanne Hurley SFN, CLFC is a Certified Specialist in Fitness Nutrition,Certified Lifestyle Fitness Coach, Series Creator of California Living, and author of "The Party Girl Diet," available on Amazon.com so you can "Keep the Party Going…While You Lose the Weight."
:Aprilanne, Aprilanne Hurley, authentic italian spaghetti gravy recipe, Authentic Italian Spaghetti Sauce Recipe, Authentic Meatballs, bay area morning shows, best Italian meatball recipe, Best Meatball Recipe, Best Spagetti Sauce recipe, best spaghetti and meatball recipe, California Living, fresh tomato sauce for meatballs, Grandma Rose's Meatballs, How to make meatballs, italian grandma, Italian meatballs, Meatballs, nutrition, video of making meatballs